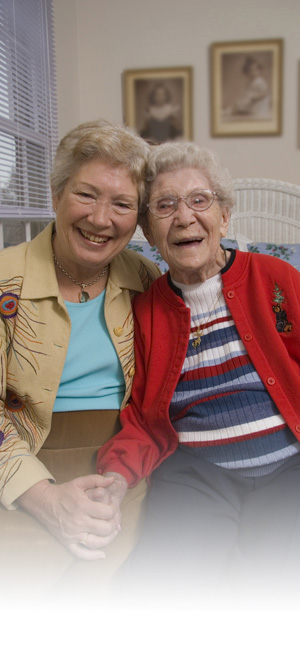 Our knowledgeable staff provide free caregiver advice, education and support for those helping loved ones. If your loved one needs help at home, our staff can offer advice on services available, respite help, hiring, financial assistance, and senior housing via telephone or in-home consultation. Free long-term care consultations are available to Ohioans who want to be better prepared for senior living, senior housing, or for help at home.
For information, resources and answers, contact the Central Ohio Area Agency on Aging at (614) 645-7250, (800) 589-7277 or through our online request form.
Caregiver Respite and Supplemental Services
COAAA provides funding to specific county agencies to deliver caregiver respite services. Respite is short-term help to alleviate caregiver stress and includes institutional respite, traditional respite, or overnight respite.
COAAA funding gives county partners flexibility in providing supplemental caregiver services such as emergency help with purchasing medications or assisting with caregiver travel.
The Central Ohio Respite Guide can be found under Caregiver Publications below.
County partners for respite and supplemental services are:
Delaware: SourcePoint, 740-363-6677 or 800-994-2255
Fairfield: Meals on Wheels of Fairfield County, 740-681-5050 or 866-654-9830
Fayette: Community Action Agency of Fayette County, 740-335-2159
Franklin: Franklin County Office on Aging, 614-525-6200
Licking: Licking County Aging Program, 740-345-0821 or 800-452-0097
Madison: Madison County Senior Center, 740-852-3001
Pickaway: Pickaway Senior Center, 740-474-8831
Union: Union County Senior Services, 937-644-1010 or 866-722-9629
Caregiver Support and Support Groups
COAAA hosts workshops and support groups to help caregivers.
Conversations About Caregiving helps connect individuals with resources and lets them share experiences in a one-on-one session with a social worker. Sessions are free of charge. Participants can call to schedule a session. Participants also receive a free Caregiver Resource Manual.
Caregiver Support Group helps family and friends of individuals with dementia. This free group meets virtually each Monday from 10 am-11:30 am on Zoom.
The Department of Veterans Affairs offers VA support groups in the Columbus area.
The Central Ohio Support Group Guide provides information about support groups offered throughout the region for a variety of conditions, needs and experiences.
Caregiver Publications
The Central Ohio Private Home Care Guide is for families who will be using private resources to pay for care. The guide provides information on the types of home health care services available and a list of organizations that provide services. COAAA also publishes the Hiring Guide for In-Home Care to assist families in bringing support into their home to assist keeping people at home.
The Central Ohio Senior Housing & Home Repair Guide lists apartments for older and disabled individuals who are lower income. It also lists homeless resources, home repair assistance programs, and low cost furnishing programs. COAAA also publishes a few mini-guides with smaller lists of resources:
The Central Ohio Long-term Care and Hospice Guide lists nursing facilities, assisted living facilities, adult care homes, and hospices in COAAA's eight-county service area.
The Central Ohio Respite Guide explains the various types of respite services and lists care facilities that offer short-term respite stays for the individual receiving care.
The Central Ohio Moving and Transitions Guide lists professionals who are dedicated to assisting older and disabled adults downsize, organize and manage their care and environments.
The new Central Ohio Kinship Care Guide provides resources and information to families when a child cannot live with his/her parents. Information included on meeting expenses, medical care, education, daycare/respite, and legal assistance in these circumstances. Two State of Ohio statutory legal documents are available for download:
Other guides include the Utilities Guide, Prescription Guide, and Books, Videos and Websites for Caregivers.
Caregiver Workshops & Education
Caregiver workshops are available free of charge in COAAA's eight counties. County partners may offer training and education sessions as well. For a list of topics view our Educational Presentations Brochure. Contact COAAA to find out if trainings are currently scheduled in your county or to make arrangements for caregiver workshops for your group.
Caregiver Toolbox workshops are offered free to community groups, businesses, and other organizations. The eight Toolbox topics address everyday challenges that may be experienced by someone caring for an older adult or person with a disability. COAAA caregiving experts can present individual topics or the entire series. To schedule a topic or the Toolbox series for your group, please contact Lynn Dobb at 614-645-3885 or 800-589-7277.
Accessing Aging Resources (Online Video) (Handouts)
Caring for a loved one? Learn about resources and services that can help older adults and their family and friends assisting them with everyday living.
Planning Ahead: What You Need to Know (Online Video) (Handouts)
Avoid making critical decisions in the midst of a health crisis. Long-term care, the financial realities and legal tools for planning are discussed. Also addresses key considerations and resources to help with planning after the death of a loved one.
Caring for Someone in the Home
Receive tips and practice techniques for providing home care.
Caring for Someone in a Care Facility
For families transitioning a loved one from the community to the nursing home setting. Discusses choosing a facility, strategies for managing care, and residents' rights.
Navigating the Healthcare Maze
Learn about consumer rights and tips for getting high-quality care in various settings.
Preventing Burnout
Identify signs of caregiver stress and burnout; com-mon emotions and coping strategies discussed.
Family Dynamics and Aging
Learn how long-standing family relationships and communication patterns impact caregiving. This workshop will explore common caregiving challenges for families. Techniques to improve communication and overcome obstacles in care planning will be discussed. Learn common characteristics of spouses, adult children and siblings involved in caregiving.
Caring for a Difficult Family Member
Discuss circumstances which can provoke "difficult" behaviors and learn techniques for coping with these behaviors.
COAAA offers free training for first responders that highlights tips and resources for interacting with older or frail adults and their caregivers? One of the topics includes interactions with people with sensory impairments, cognitive impairments, and dementia.

Plain Talk Series
The 2019 Plain Talk series, co-sponsored by the Central Ohio Area Agency on Aging and Schoedinger Funeral and Cremation Services, featured speakers and handouts on topics such as downsizing, legal issues, diagnosis and treatment options, hospice and palliative care, and funeral planning. To view recorded Plain Talk sessions, visit our YouTube playlist.