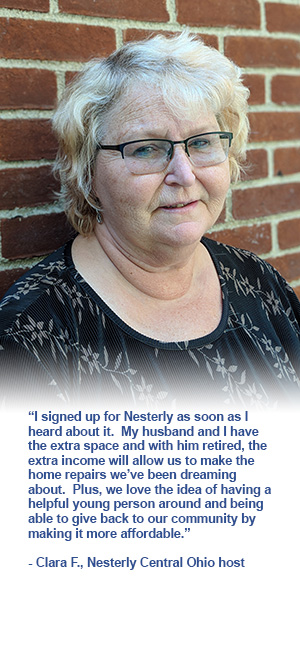 Intergenerational Homesharing: rent a room to another generation and start a new friendship
Nesterly Central Ohio is an intergenerational homesharing program that connects homeowners (Hosts) who have spare rooms with people who are seeking a place to stay for longer than one month (Guests). The arrangement offers financial and social benefits to both Hosts and Guests.
Trust and safety are paramount to Nesterly, and everyone goes through a multi-step screening process which includes an application, at least two references, and a complete background check before a homeshare is booked. Nesterly's optional task exchange feature makes it simple for a Host to delegate pesky chores to a Guest in exchange for reduced rent.
Nesterly was founded by Noelle Marcus at MIT to tackle two big challenges: housing affordability and aging in place. Nesterly launched in Boston in 2017 and selected Columbus as its first expansion city in early 2019. COAAA is excited to collaborate with Nesterly and Age Friendly Columbus and Franklin County to bring Nesterly Central Ohio to Franklin County.
Interested in becoming a Host or Guest in Franklin County? Visit www.nesterly.io/columbus to sign up. Frequently Asked Questions can be found at www.nesterly.io/faq, or you can contact Frances, COAAA's homesharing coordinator at 614-645-3646 or This email address is being protected from spambots. You need JavaScript enabled to view it..